Ruger 10/22 Triggers
There's several good Ruger 10/22 Trigger Upgrades. Unfortunately most of them cost as much or possibly even more then the initial purchase price of the gun. In addition to the drop-in triggers listed below there's numerous manufactures that offer upgrade parts for the existing 10/22 trigger for a more economical solution. To get an idea of what's involved with that check out this page from Brownells.
Visit Brownells to support this web site

Timney Triggers
Timney Triggers 10/22 Drop-In Assembly
Timney Triggers' 10/22 Drop-In Assembly contains a complete trigger assembly, cross-bolt safety, bolt catch and magazine release. The automatic bolt release allows the user to simply pull and release the charging handle to unlock the bolt, with or without the magazine inserted, and the magazine release extends from the front of the assembly to the underside of the trigger guard.
The steel trigger, sear and hammer are wire-EDM cut and heat-treated for durability. The housing is CNC-machined 6061-T6 aluminum and fits into any standard 10/22 stock. For installation, simply remove the two receiver cross pins, remove the old assembly, insert the Drop-In and then reinsert the cross pins. Trigger-pull weight is factory-set at 2 pounds, 12 ounces, with no discernible creep
Timney Triggers has just started accepting preorders of their new drop-in trigger for the Ruger 10-22. "EDM cut, Teflon-Nickel coated, exceptionally smooth, crisp, single-stage, drop-in trigger. Pull weight 2.5 pounds.

KIDD Ruger 10/22 Two-stage Trigger
The KIDD trigger offers the incredibly clean and consistent let off expected in a target trigger while maintaining the total reliability and safety required of a field trigger. The pull weight can be infinitely distributed between the two stages offering a pull as light as 6 ounces (3 ounces on the first stage and 6 ounces on the second stage) or as heavy as 2.5 pounds.
Volquartsen Trigger Guard 2000
This complete Volquartsen Trigger Assembly is CNC machined from aircraft aluminum and equipped with precision EDM parts. It features an internal pre-travel adjustment and a hammer that is precision ground from 440C stainless steel and hardened to 58 RC. The sear and disconnector are made of A2 hardened tool steel with tolerances of +/- .0002″, complete with custom tuned springs. The trigger is black anodized, equipped with an over travel adjustment screw and is reset internally to eliminate any dragging or inconsistencies caused by a conventional trigger plunger. An automatic bolt release and an extended magazine release are also included. Trigger pull is pre-set to 2 to 2-1/2 lbs. Due to the oversized safety used, it may be necessary for some stocks to be modified slightly to accommodate this part.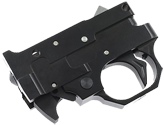 Jard Ruger 10/22 Trigger
The Jard Ruger 10/22 Machined, aluminum, trigger housing with hardened, steel components replaces the non-adjustable, factory trigger in your Ruger 10/22 for a crisp, consistent, single stage trigger pull worthy of the finest match rifle. Patented, two-lever system puts the sear engagement point at the backside of the hammer for improved leverage that lightens pull weight to approximately 1.5 or 2.5 pounds, depending on model. Extra-power hammer spring ensures fast, positive primer ignition. Adjustments for sear engagement and overtravel allow precise tuning to eliminate creep. Includes pivoting ejector, magazine latch, and push-button safety. Spring-loaded, bolt lock lever disengages automatically when bolt is pulled rearward for easy, one-handed bolt operation. Available in black or silver. Drop-in installation using the factory, receiver cross-pins.
Hornet Custom Ruger 10/22 Trigger
The best selling Hornet custom trigger assembly upgrade for your Ruger 10/22. If you have been dissatisfied with the 6-8 pound trigger pull that came with your rifle, this customized trigger assembly may be perfect for hunting & off-hand target shooting. The crisp trigger release is only 2-3/4 pounds. Each trigger assembly has been carefully fitted, lubricated, and tested for safety and reliability. What makes it special are the custom replacement parts included in the assembly. Standard trigger and housing color is black. Best application: Hunting & off-hand target shooting.
Easy drop-in installation. No special tools needed. Instructions included. After the stock is removed, two cross-pins attach the assembly to the receiver. Drift them out, drop the old assembly, and reassemble in reverse order. It can be done in less than 5 minutes without experience.
Hand polished and honed Hammer for a light, smooth, trigger release. Lightweight Trigger Return Spring and Custom Radius Trigger Return Plunger polished for smoothness. Custom Sear and Disconnector honed for minimal positive engagement consistent with safety. Automatic Bolt Release eliminating two-hand operation – just pull back and release. Custom Extended Magazine Release – push forward and the magazine easily drops away – no more convoluted pinching to operate the release. Custom hammer, sear, and disconnector pins to eliminate most of the trigger play. Satin black polymer housing, red trigger, red extended magazine release. All parts are fitted, lubricated, and test fired.