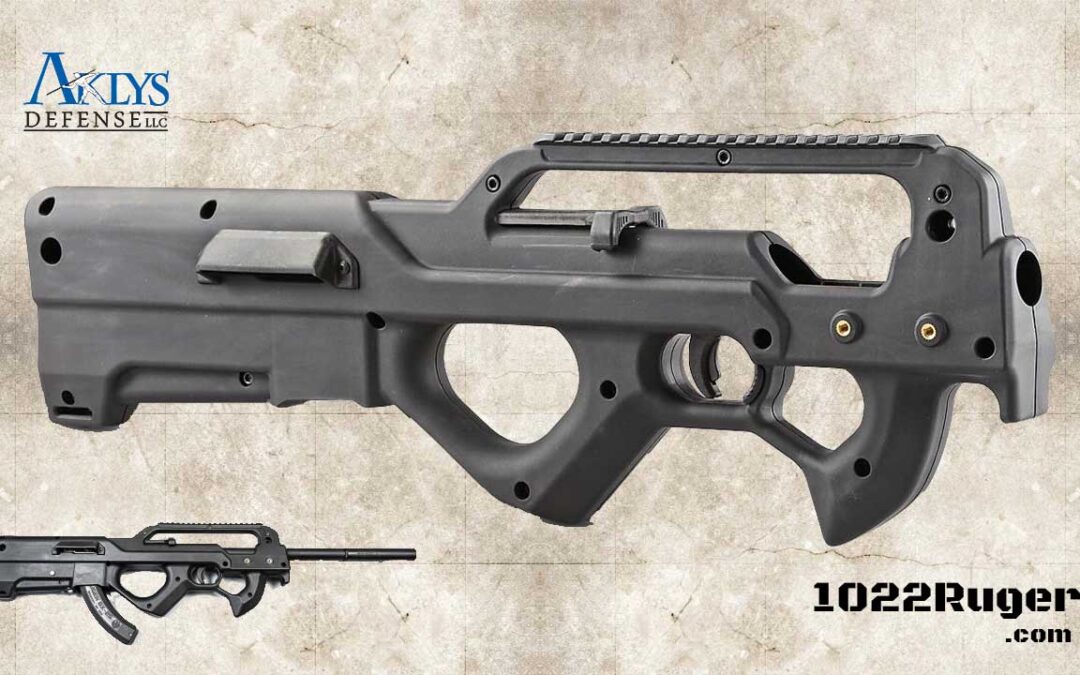 Aklys Defense ZK-22 10-22 Bullpup Stock Kit
Aklys Defense ZK-22 10/22 Bullpup Stock Kit
The Aklys Defense ZK-22 10/22 Bullpup Stock Kit allows a Ruger 10/22 to be converted to a bullpup that somewhat resembles an FN PS90. (The High Tower Armory 90/22 10/22 stock is more accurate in appearance.) To avoid a court or jail time the ZK-22 stock requires a barrel that's at least 18.5″ in length.
The FN PS90 is illegal in my home state so I won't be buying and reviewing a ZK-22 any time soon. For what it's worth I can't even buy a Ruger Charger .22 pistol here. I encourage visitor feedback on the ZK-22 and the HTA 90/22. You might also be interested in viewing more stock options here.
Available from Sportsman's Guide and Brownells
Aklys Defense ZK-22 10/22 Bullpup Stock Kit
The Aklys Defense ZK-22 drop-in stock kit will accept any standard Ruger® 10/22® receiver with carbine barrel, or .920″ Bull barrel,18.5″ or longer. This stock turns your tired Ruger 10/22 into a lightweight zombie killing machine or the coolest .22 rifle on the block or range.
Features:
Engineered, designed, built, and assembled in the USA!
Easy install. No gunsmith needed. Install at home.
Accepts 18.5″ inch or longer Ruger or aftermarket barrels up to .920 in diameter. The stock comes with adapters that will let you use standard or heavy barrels.
Accepts most full capacity magazines, including the MWG 50 round coffin magazine and the Ruger® BX-25®.
Provides rail mount system for mounting optics or other accessories.
Ambidextrous charging handle, Sling point mounts, safety, and mag release.
Integral trigger safety.
Adjustable trigger interface to tune to your preference of triggers.
Shell deflector included allowing for full ambidextrous use.
 To not violate NFA overall length requirements. This Ruger® 10/22® stock requires an 18.5″ inch or longer barrel length.